Symptom
Sie erhalten auf Windows folgende Fehlermeldung:
Runtime Error! Program: (...). This application has requested the Runtime to terminate it in an unusal way. Please contact the application's support team for more information.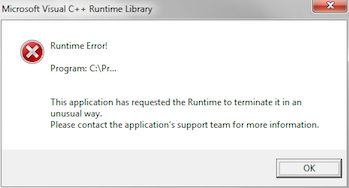 Ursache
Das Windows C++ Runtime Library Paket muss aktualisiert werden.
Lösung
Das C++ Runtime Library Paket kann hier heruntergeladen werden:
Visual C++ Redistributable Packages for Visual Studio 2013
Bitte konsultieren Sie die Microsoft-Support-Seiten oder wenden Sie sich an den Microsoft-Support, um weitere Informationen zu erhalten, falls Sie Unterstützung beim Installieren des Pakets benötigen.