Symptom
After updating Native Access to version 3.3.0 or higher, the following products open as demo versions on Apple Silicon / M-Systems:
GUITAR RIG 5
SUPER 8 R2
KONTAKT 5
KONTAKT 6 (versions below 6.6 only)
Note: SUPER 8 R2 is the discontinued standalone version. The current SUPER 8 version running in REAKTOR (Player) is not affected.
Cause
The affected products have been discontinued and not been updated for a long time and therefore still require Rosetta2.
With Native Access version 3.3.0, the NTKDaemon service is running natively on Apple Silicon / M-Systems. As a result, the applications deem the activation invalid.
Solution
Important: This workaround will activate your affected products and prevent Native Access from updating itself.
However, please note that this workaround will no longer work when Apple decides to remove support for Rosetta 2.
To future-proof your projects, we recommend to either recreate the tracks containing the above discontinued products using the current major versions, or to bounce the tracks as audio tracks.
Once you no longer rely on the discontinued products, we recommend to install the latest Native Access version to re-enable the self-update function and to benefit from new features.
---
Please follow these steps:
1. Download and install Native Access 3.2.3. When prompted during the installation, select Replace: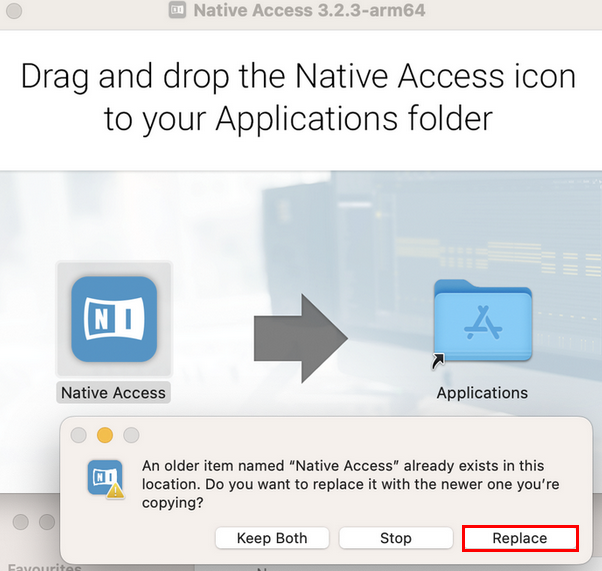 2. Start Native Access and click the Refresh button in the upper right:

Now, your affected products stay activated and Native Access won't update itself.