All KOMPLETE 8 (ULTIMATE) products that are still available for purchase (e.g. MASSIVE, FM8, KONTAKT 5, etc.) can be installed directly from the Not installed tab in Native Access.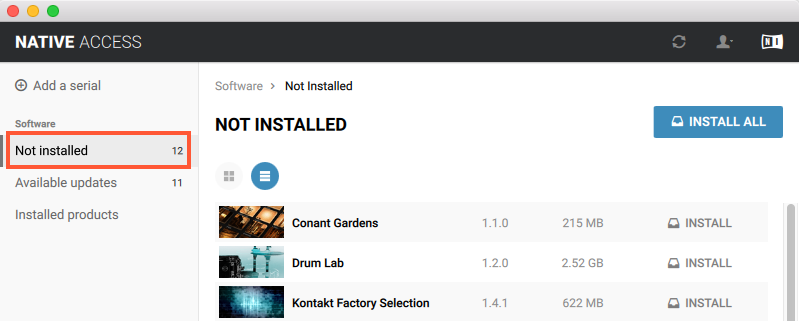 Below you can find the installers for the products that are missing in Native Access. After the installation of the individual products, simply open Native Access to activate the products automatically.
KOMPLETE 8 and KOMPLETE 8 ULTIMATE
Download these installers if you own either KOMPLETE 8 or KOMPLETE 8 ULTIMATE:
Note regarding BATTERY 3: After the installation of the two disk images, you can install the update to BATTERY 3.2.3.
KOMPLETE 8 ULTIMATE:
Download these additional installers, if you own KOMPLETE 8 ULTIMATE:
Note: All ABBEY ROAD DRUMS Libraries were discontinued and have been replaced with the ABBEY ROAD DRUMMERS series. The ABBEY ROAD DRUMMERS Libraries are built with the same samples and sounds, but offer more features and functions. We strongly recommend to use the new updated ABBEY ROAD DRUMMERS, which are directly available in Native Access. If Native Access does not show the ABBEY ROAD DRUMMERS Libraries, contact our Order Support, using this link:
https://support.native-instruments.com/hc/en-us/requests/new
Related Articles