Please follow the below steps if your KONTAKT Library is not displayed in KONTAKT's Library Browser.
If your have moved or cannot find the folder containing the Library you already installed, read this article.
If you need to install and set up a KONTAKT Library for the first time, read this article.
If the previous descriptions do not apply to your case, continue with the below troubleshooting.
The Library must be Set to Display in the Browser
Note: The option to display / hide Libraries is available in KONTAKT 5.6.8 (or higher).
Open the KONTAKT Preferences (Mac) / Options (Windows) and switch to the Libraries tab.
In the list, make sure that all Libraries that you wish to appear in the Library Browser are visible by clicking the square next to the Library name.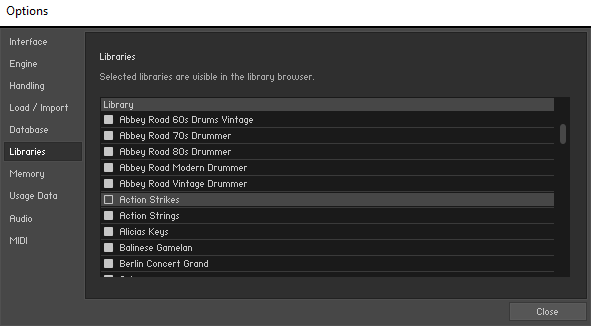 In our example, Action Strikes is unselected and will not show up in KONTAKT's Library Browser.
The Library must be Switched from Demo to Full Version
In some cases, KONTAKT libraries may disappear from the Library tab after restarting KONTAKT or switch unexpectedly to demo mode. To resolve this issue follow the steps below:
Download and install the latest version of KONTAKT, which is available in Native Access.
Close Native Access, open it again and log in. During the launch process Native Access updates your product database automatically in the background. This process may take several minutes.
Start KONTAKT in standalone version. All the installed KONTAKT libraries should be available again.