Note: The Native Access repair function is available on Mac OS X 10.10 (and higher) and Windows 7 (and higher).
When starting Native Access, it automatically scans all activated products and detects missing software items, like applications, plug-ins or libraries. Possible reasons for missing items include:
The software has been moved to a different location on your computer.
The hard drive containing the software has been renamed.
The files have been deleted.
In case Native Access finds missing software, the corresponding product entry in the Installed products tab shows a REPAIR button: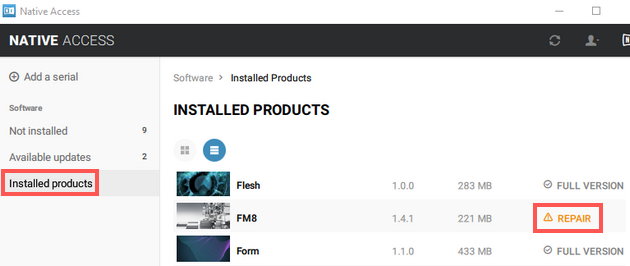 When you click the REPAIR button, Native Access shows an info box containing more information about the missing items. In our example on Windows, Native Access cannot find the FM8 application, nor the FM8 64-bit VST plug-in: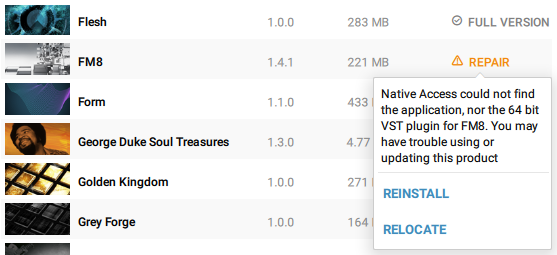 There are two options:
1. If you know where the missing items are located now, you can relocate them:
Click RELOCATE in the REPAIR info box:

In the list of missing items, click an entry's BROWSE button:

Navigate to the new location of the missing item's folder and confirm your selection.
After you relocated all missing items, click the RELOCATE button to finish the procedure.

2. If you do not know where the missing items are located or the files have been deleted, you can reinstall the whole product:
Click the user icon in the upper right of Native Access to open the Preferences and make sure that the File locations are set correctly. You can find more information about how to change install locations in this article.

Click the REPAIR button again and choose REINSTALL in the REPAIR info box: