Symptom
When attempting to install a product from the Not installed tab, the download fails and the following error message is displayed:
Download failed
Downloading *product name* failed: Unknown error.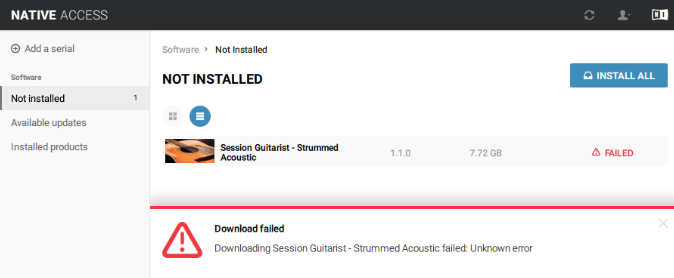 Cause
We are still investigating this issue. At the moment, we can only provide the solution below that is working for many customers, but not all. If the solution below does not help, please get in touch with our product experts in the Support Community to receive individual help. We apologize for any inconvenience this may cause.
Solution
Close all applications, keeping Native Access open.
In Native Access, click the User icon and select Preferences.

Make sure that all three File locations - Download, Application and Content - are set to different folders. You can change the location if needed by clicking the BROWSE button next to the corresponding location. Click SAVE to confirm the changes.

Close Native Access
Open the folder you have set as Download location and delete any files with the extension "iso" or "aria" (see example below).

If the issue persists, it may be related to your individual setup or system settings. Please create a post in our Support Community, to obtain individual help from our product experts.