Symptom
When installing a legacy Native Instruments download product on a Mac system, you receive the following error message:
"*Product name*" can't be opened because it is from an unidentified developer.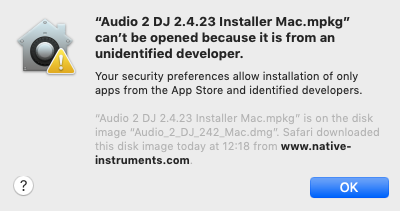 On newer Mac systems you may also receive the message System Extension Blocked.


Cause
The above message is generated by the security feature Gatekeeper, which has been introduced in OS X 10.8. In the default configuration it will prevent the use of legacy Native Instruments installers.
Note: All of our current products are Apple-certified and the installer will run without any issues.
Solution
Please follow the below steps in order to install your Native Instruments product:
Right-click the installer / application and select Open.

Click Open.

The installation will now run as expected.