Symptom
When installing a legacy Native Instruments download product on a OS X system, the following error message may appear:
"*Product name*" can't be opened because it is from an unidentified developer.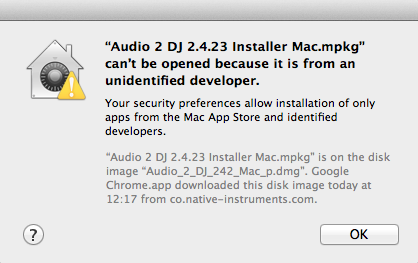 Cause
The above message is generated by the security feature Gatekeeper, which has been introduced in OS X 10.8. In the default configuration it will prevent the use of legacy Native Instruments installers.
Note: All of our current products are Apple-certified and the installer will run without any issues.
Solution
Please follow the below steps in order to install your Native Instruments product:
Right- or CTRL-click the download installer and choose Open from the context menu:

A warning message like the one below will appear. Click Open to confirm that you wish to use the installer.

The installation will now run as expected.