This article explains where you can download your Native Instruments software.
You can also download the installers for most NI products directly from the Native Instruments website after logging into My Account, as explained below:
Note: If you do not have a Native Instruments User Account please refer to this article.
To log into your account click My Account, which is located on the right side of the top navigation on the Native Instruments website. Then choose LOGIN/CREATE ACCOUNT and provide your email address and password: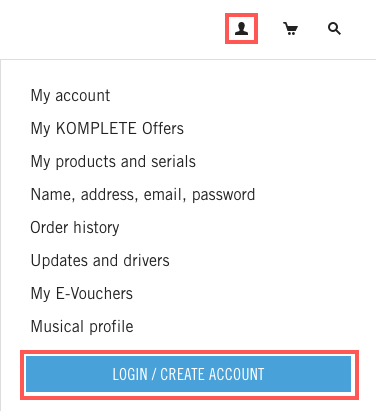 Downloading your Product
In the My Products & Serials section of My Account click the DOWNLOAD button next to your product's name or click the download directly link:

A window showing download links to your product will open. Choose between the Downloader for MAC and PC.

Note: The NI Downloaders are only compatible up to OS X 10.11. They are not compatible with OS X 10.12 (or higher). Some older products from Native Instruments may not be available for download in your account anymore. If you are required to (re)install such a product but no longer have access to its installation discs, please contact our Tech Support team.

On OS X, extract the downloaded zip-file by right-clicking it and choosing 'Open with > Archive Utility'. Then double-click the extracted file. On PC, double-click the downloaded exe-file to start the installation process.
Downloading Updates and Drivers
The Updates and Drivers tab provides all users with important software updates for registered products as well as links to the latest hardware drivers, important tools (such as Service Center or the Controller Editor) and product manuals.

Downloading Legacy KOMPLETE DVDs
If you need to download the DVDs of KOMPLETE 8 or KOMPLETE 9, you can find the individual DVDs after clicking DOWNLOAD next to the bundle's entry in the My Products & Serials section as well. A window showing download links to the individual DVDs opens, each part available as a separate download for MAC and PC.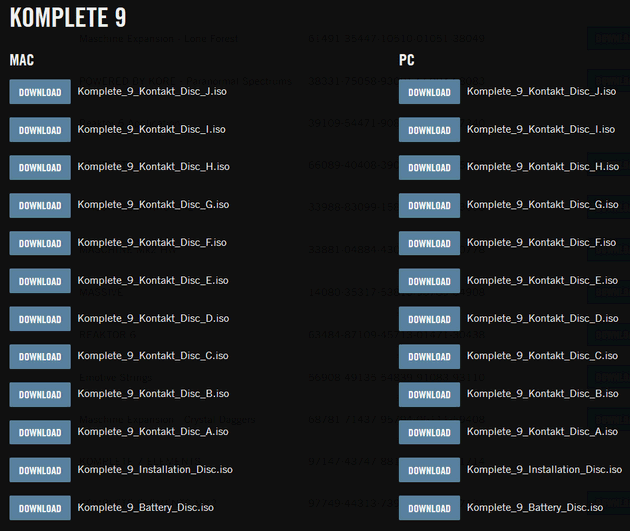 The following articles show which DVDs are required in order to do a custom installation of a specific application or library. Please click on your version of KOMPLETE:
Related Articles