Powered by KONTAKT libraries (or KONTAKT Instruments and Effects) such as THE GIANT, DAMAGE or FUNK GUITARIST come with a predefined folder structure which should not be modified. Below, the library folder of THE GIANT is displayed: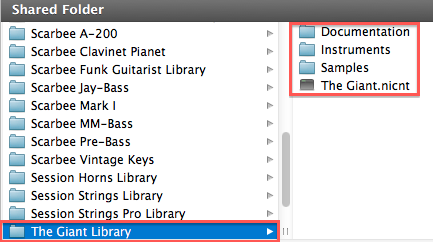 Note: Older Powered by KONTAKT libraries do not contain a .nicnt file as in the above example. Instead, these library folders contain LibraryName_info.nkc and LibraryName_info.nkx files.
While it is important not to move or change any subfolders or files within this main library directory, it is possible to move the entire folder (e.g. The Giant Library) to another location on your computer or to an external hard drive. Afterwards it is necessary to relocate this folder within the KONTAKT application. Please refer to this article for information on how to do this.