If the crossfader is not shown or does not work as expected, check the following settings in TRAKTOR.
Crossfader Layout Settings
The crossfader in TRAKTOR can be hidden, depending on your Layout settings. By default, the Mixer Layout shows the crossfader, right under the central mixer section.



You can select the Mixer Layout from the drop-down menu in the upper right corner of TRAKTOR.



If you want to make the crossfader visible in the currently selected Layout, check the corresponding option under Preferences > Mixer > Mixer Layout.


The Crossfader and TRAKTOR's Mixing Modes
If the crossfader section is visible, but its slider is not shown, you are running TRAKTOR in External Mixing Mode.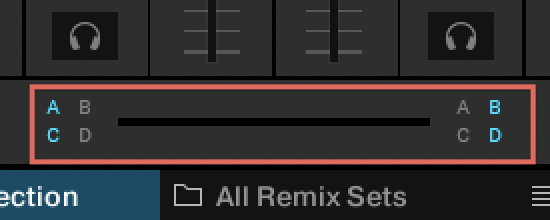 In External Mixing Mode the Decks are assigned to separate outputs of your audio interface for mixing with an external DJ mixer. In this case, use the crossfader of your external DJ mixer. You can change the Mixing Mode under Preferences > Output Routing > Mixing Mode. If you want to use the built-in mixer of TRAKTOR, for example with controllers like the TRAKTOR KONTROL S2 / S4 / Z1 / Z2 or any TRAKTOR READY controller with a mixer control section, set the Mixing Mode to Internal.


Crossfader Assignment
If you can move the crossfader, but it does not crossfade between your Decks as desired, check your crossfader assignment. In TRAKTOR, the crossfader can be freely assigned to each deck. You can do this with the Crossfader Assign Buttons next to the crossfader. In a normal configuration, you will assign the left side of the crossfader to Deck A (and / or C) and the right side of the crossfader to Deck B (and / or D). Here you can see Deck A assigned to the left side of the crossfader, and Deck B to the right: