If the access path to a KONTAKT Library has been changed (eg. the Library has been moved to another location after the original installation), you will receive the following KONTAKT Browser error message:
Library content not found. Click Locate to set the content.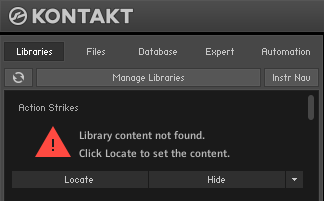 Please follow the below instructions in order to relocate the KONTAKT Library:
Press the Locate button at the bottom of the missing Library box.

You will now see the Library Content Missing window, where you can choose to relocate the Library automatically or manually. The easiest method is to search for the Library automatically. For this, press either the Search Filesystem or the Search Spotlight button.

Note: the Search Spotlight option (only available on OS X) is the quickest method since it uses your OS X indexing system. Search Filesystem will scan your entire system drive.


If you know where the Library is located on your computer, you can choose to relocate the Library manually. For this, press the Browse for folder button.

This will open a Locate Folder window. Choose the Library folder you want to relocate and press the Choose button. In our example, we choose to relocate the Action Strikes Library.

Note: Your operating system may prompt you to type in your administrator password to allow KONTAKT to make changes to your system.

KONTAKT has now relocated the missing Library and displays it correctly in the

Libraries

section of the Browser.

Related Articles