This article provides useful information if you experience performance issues (audio crackling, software freezes, etc.) after loading new Sounds to your MASCHINE 2 Project.
MASCHINE 2 allows you to load a very large number of Sounds into a Project from a list of presets in the Browser. Each Sound is based on one or several plug-ins. In the screenshot below, we have loaded the Accordion preset from the Sounds section of the Browser. As you can see, it is built of a chain of three plug-ins: Sampler, EQ and Metaverb.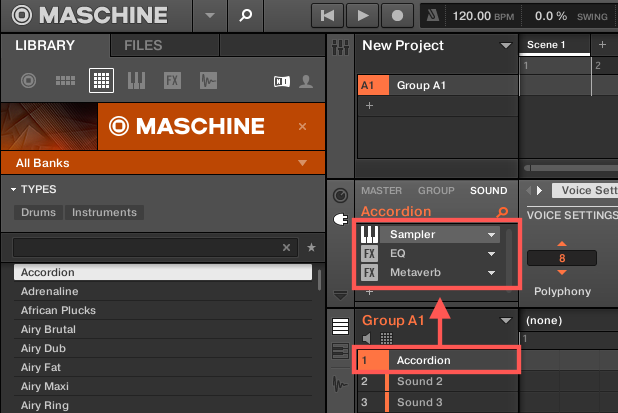 Plug-in Engines and Performance
All presets look similar in the MASCHINE Browser but they can have a different impact on your computer's performance depending on the plug-in engines they rely on. MASCHINE Library Sounds, for example, are based on MASCHINE's built-in Sampler plug-in, which generally processes one-shot samples. The Sampler plug-in does not cause a significant load on your CPU or consume your computer's RAM.
However, some Sounds in the Instrument category of the Browser are based on complex processing and may cause a significant load on your CPU. This is the case for synthesizer sounds based on MASSIVE or REAKTOR Instruments, like MONARK, RAZOR, ROUNDS, etc.
Sounds based on KONTAKT Instruments are built with a quantity of individual samples and may demand a large amount of RAM space and also cause a significant load on your CPU, thus quickly bringing your computer to its limits. This is the case for KONTAKT Libraries like WEST AFRICA, SESSION STRINGS, etc.
Also keep in mind that some effects, especially reverbs, calculate a very complex algorithm in real time, increasing the load on your computer. Therefore they must be used reasonably.
Avoiding Performance Issues
The number and type of Sounds you can use in a particular MASCHINE project without running into performance issues depends on your computer's specifications. In general, a computer with a fast CPU and much RAM will allow you to use more Sounds than a computer with a slower CPU and less RAM installed.
Please note however that real-time audio performance depends on several factors, including system settings and computer hardware components. If you run into performance issues, the first step to take is to optimize your computer for real-time audio processing. To do this, read our tuning guides for OS X and Windows which you will find in the Related Articles section at the bottom of this article.
Once your computer has been optimized for real-time audio processing, there is an additional step you can take to avoid overloading your MASCHINE project. MASCHINE allows you to render particular Sounds or entire Groups to audio. This will drastically lower the charge on your processor if the sounds you were using were relying on complex plug-in engines like REAKTOR. In case the Sound you use is based on a heavy KONTAKT Library, this will free space in your RAM. This video explains how to do this.
Notes on Cloud Storage
Syncing content, projects or samples with a cloud drive can cause performance issues. While it is possible to back-up your content to a cloud drive, it is not recommended to configure real-time syncing. The syncing of your content, projects or samples should only occur when the MASCHINE application is not in use.
Related Articles