For certain plug-ins, MASCHINE allows you to use a side-chain input to control how the effects process the audio. This article shows how to set up MASCHINE for internal side-chaining.
What Is a Side-Chain Input?
A side-chain configuration can be used to trigger an effect that is inserted on one channel with an audio signal from another channel. A common example for side-chaining is using a kick drum track as a side-chain for the compression of a bass track: each kick impulse will trigger the compressor on the bass track, resulting in a typical pumping effect between kick and bass.
Setting Up MASCHINE for Internal Side-Chaining
In the below screenshots we have loaded a Kick in the first Sound slot of Group A and a Bass into the first Sound slot of Group B. The Kick is playing at each quarter note of a bar: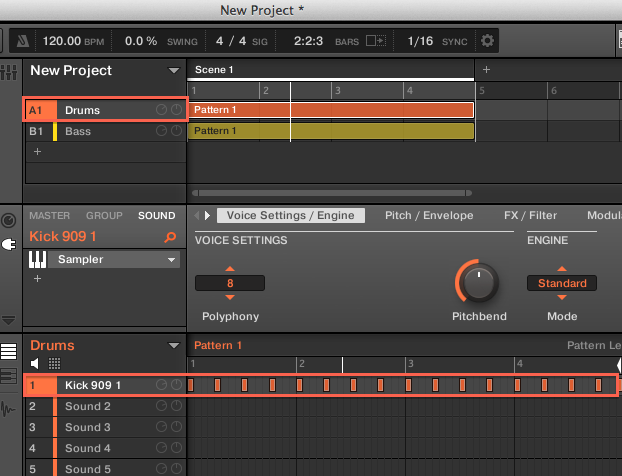 The Bass is playing one sustained note throughout each bar.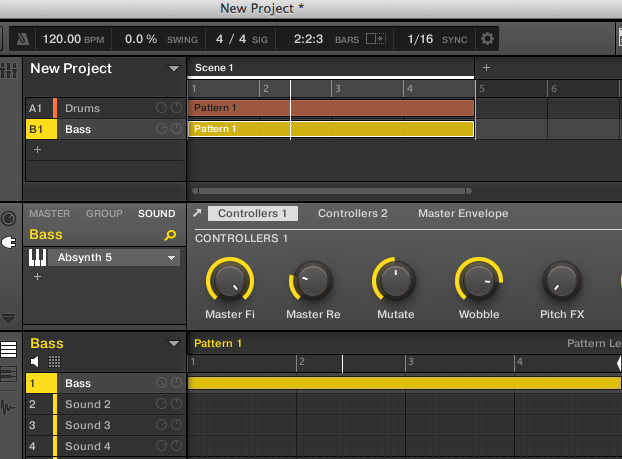 In the Bass Sound Slot click the + icon.

A plug-in drop-down menu will appear. Select the Compressor to be loaded as an insert effect.

Click the Side-Chain Input tab of the Compressor.

Under INPUT select Drums:Kick 909 1, which is the audio signal we want to use as a side-chain signal to control the Compressor plug-in.


Note: the settings of the Side-Chain Input page stay in place when you switch to another Plug-in supporting side-chain. This notably allows you to try different compressors or different compression presets without losing the side-chain setup.
Now press play in MASCHINE. You should hear the Bass volume being attenuated by the Kick track. Tweak the settings in your Compressor plug-in to create a strong or subtle ducking effect. The following Internal, Native Instruments, and External plug-ins support side-chaining:
Internal plug-ins: Compressor, Maximizer, Limiter, Gate, Filter.
AU plug-ins (Native Instruments and External): Any AU plug-in with side-chain input.
VST plug-ins (Native Instruments and External): Any VST plug-in with multiple inputs.