For certain plug-ins, MASCHINE allows you to use a sidechain input to control how the effects process the audio. This article shows how to set up MASCHINE for internal sidechaining.
What Is a Sidechain Input?
A sidechain configuration can be used to trigger an effect that is inserted on one channel with an audio signal from another channel. A common example for sidechaining is using a kick drum track as a sidechain for the compression of a bass track: each kick impulse will trigger the compressor on the bass track, resulting in a typical pumping effect between kick and bass.
Setting Up MASCHINE for Internal Sidechaining
In the below screenshots we have loaded a Kick in the first Sound slot of Group A and a Bass into the first Sound slot of Group B. The Kick is playing at each quarter note of a bar: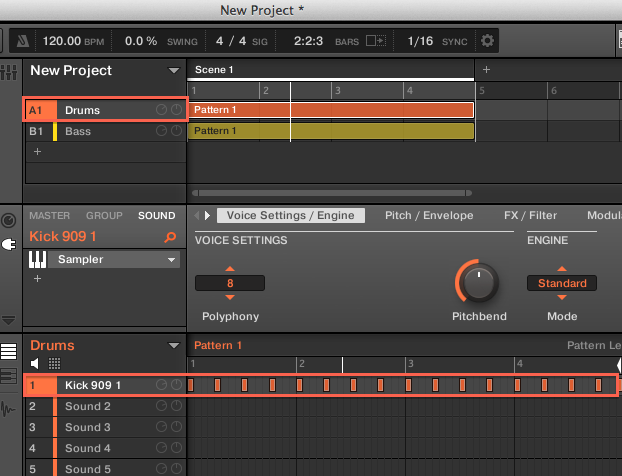 The Bass is playing one sustained note throughout each bar.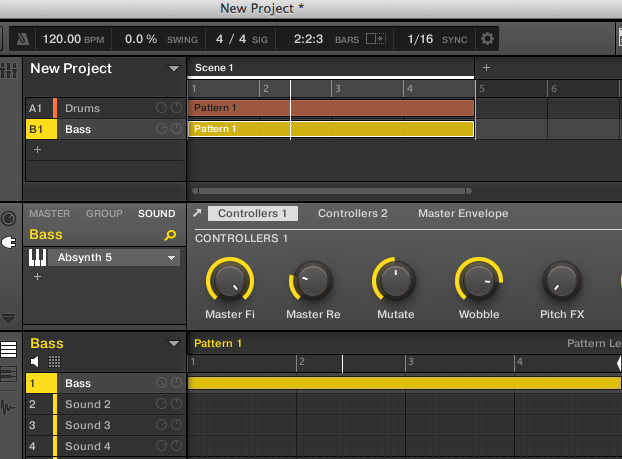 In the Bass Sound Slot click the + icon.

A plug-in drop-down menu will appear. Select the Compressor to be loaded as an insert effect.

Click the Side-Chain Input tab of the Compressor.

Under INPUT select Drums:Kick 909 1, which is the audio signal we want to use as a sidechain signal to control the Compressor plug-in.


Note: The settings of the Side-Chain Input page stay in place when you switch to another Plug-in supporting sidechain. This notably allows you to try different compressors or different compression presets without losing the sidechain setup.
Now press play in MASCHINE. You should hear the Bass volume being attenuated by the Kick track. Tweak the settings in your Compressor plug-in to create a strong or subtle ducking effect. The following Internal, Native Instruments, and External plug-ins support sidechaining:
Internal plug-ins: Compressor, Maximizer, Limiter, Gate, Filter
AU plug-ins (Native Instruments and External): Any AU plug-in with sidechain input
VST plug-ins (Native Instruments and External): Any VST plug-in with multiple inputs