When saving an edited instrument from a KONTAKT Library (eg. THE GIANT), it is recommended to save it in a location on your computer that is not part of the product's library folder. This ensures that your custom patches will not be overwritten in case that you need to reinstall the library.
Please follow the steps below in order to learn how to save your edited instruments in a custom location. We will use a THE GIANT Instrument in this example.
In KONTAKT, click the Files icon and choose Save as... > Instrument #1 - The Giant

A new window will open. Create a new name and specify a location for the edited instrument. In this example, the instrument has been named The Giant Custom.nki and it will be saved in a new folder named Kontakt Custom Sounds:

To add the Kontakt Custom Sounds folder to the KONTAKT database, click on the Database tab and select DB Options.

In the Options window navigate to the folder by clicking on Add and browsing to its location. Confirm your selection with Choose. A new entry will be added to the database list.

Finally, click on Update to re-scan the database. This may take a few minutes.

Your custom sounds can now be loaded via the KONTAKT Database.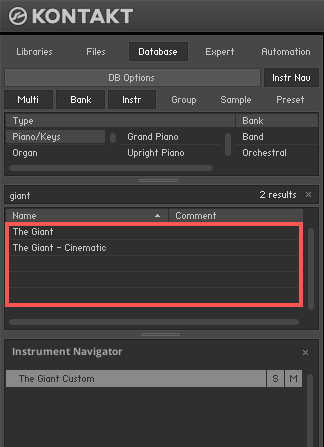 Your sounds can also be loaded into KONTAKT via drag-and-drop from the Explorer / Finder.

Related Articles