When loading plug-in versions of Native Instruments product in a host sequencer, you will see a menu in or next to the plug-in symbol containing all presets of the application.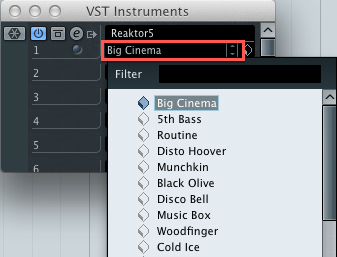 You can select the plug-in presets directly from this menu and switch between them via MIDI Program Change commands. However, you might notice that the preset list of some NI plug-ins in your host sequencer will read disabled: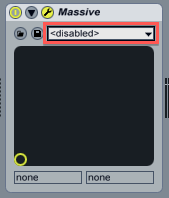 In this case, proceed as described below to add presets from your plug-in to the list (In this example we use MASSIVE, but the workflow also applies e.g. for ABSYNTH and FM8).
Note: The preset menu is not available for KONTAKT. In KONTAKT you can create an Instrument Bank and add presets to it. Please refer to product manual for further information.
Open the plug-in window and go to the Browser section. Then click the PROGRAMS button to show the Program List (see screenshot)

Drag & drop presets from the browser on the left side into the Program List to make them available for MIDI Program Change. The number in front of the preset is the MIDI Program Change number you will have to send to choose the respective preset.
Activate the Program List by clicking on the power button at the upper left (see screenshot).

Now the presets will appear in the preset menu mentioned above and you will be able to select them via MIDI Program Change.