TRAKTOR allows you to create your own unique Remix Sets for use in a Remix Deck during performance. This article will explain how to create an original TRAKTOR Remix Set with samples and / or loops using the MASCHINE software. This article describes two different methods in order to achieve this.
Note: Before you begin, make sure you have set one of your Decks in TRAKTOR to be a Remix Deck. This is done by either clicking the Deck letter (A, B, C or D) or changing the Deck Flavor in the Decks Layout section of TRAKTOR's Preferences.
Method 1: Exporting your Audio from MASCHINE and Importing it into TRAKTOR
You can export your samples individually (i.e. kick drum, snare drum, hi-hat etc. all separated), as groups, or as the entire master output of MASCHINE with all sounds included in a pattern. If you intend for your sample to be loops, check the box for Loop Optimize. Please refer to the MASCHINE reference manual section "Export Audio" for detailed information on how to export audio in MASCHINE.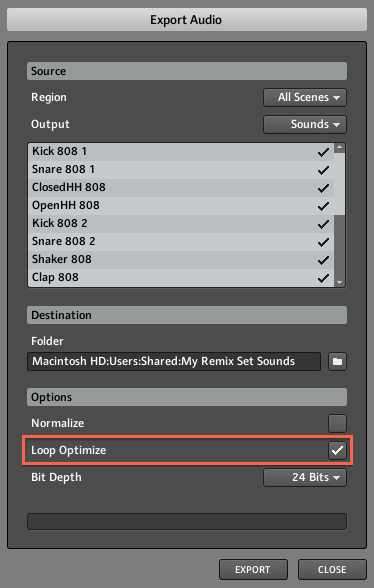 After you have exported your audio files from MASCHINE, you are ready to bring them into TRAKTOR:
Navigate to the folder where you have saved your exported MASCHINE audio loops / samples by using one of the following methods:


Go to the Explorer section of TRAKTOR's Browser tree and find the correct folder on your hard drive.
Use the Finder (OS X) or Explorer (Windows) to find the correct folder on your hard drive.

Select all your loop and sample files.
Drag the selected files to the TRAKTOR Track Collection in order to import them.

Once you have imported your samples into TRAKTOR, they should appear in Track Collection. To find them easily, click on Track Collection in the Browser tree and sort the track list by Import Date. Click Import Date twice to bring the newly imported sounds to the top of your list.
Tag the sounds you have just loaded into TRAKTOR as either Looped Samples or One-Shot Samples by right-clicking them and choosing the corresponding function from the context menu. You can do this for single sounds or a selection of multiple ones.
You can now start dragging your new samples from your Collection into the slots of a Remix Deck to create a new Remix Set.
Method 2: Using MASCHINE's Pattern Drag Feature to Drag Directly from MASCHINE into TRAKTOR
Note: MASCHINE's Pattern Drag function can be used to drag loops or one-shots from MASCHINE directly into slots of TRAKTOR's Remix Decks. Please refer to the MASCHINE reference manual section "Rendering Audio from Patterns via Drag and Drop" for detailed information on how this function works.
Make sure the Pattern Drag Mode is set to Audio for the Kit in MASCHINE.


Click and hold your mouse button down on the Pattern Drag area (see screenshot below) to initialize the Pattern Drag for the entire Kit and the selected Pattern.

Note: If you want to separate your sounds (i.e. kick drum, snare drum, hi-hat etc.), simply solo each desired sound or mute unwanted sounds before performing the Pattern Drag.

Hold down your mouse button and keep doing so when the Drag and Drop Audio progress bar shows Done, ready to drag.

Drag your sound to an empty slot in one of TRAKTOR's Remix Decks and release the mouse button to drop it there.

The new sample appears in the selected Remix Deck slot.

In order to differentiate between different sounds and patterns, it's recommended to click on the samples and rename them in the Remix Deck.

Set each Remix Deck slot as Loop or One-Shot in the Advanced panel of the Remix Deck in order to define its playback behaviour.

When finished, your samples will also appear in TRAKTOR's All Samples folder under Track Collection in the Browser tree. In order to permanently tag them as a One-Shot Sample or Looped Sample, perform the steps 4 and 5 under Method 1: Exporting your audio from MASCHINE and importing it into TRAKTOR above.
Saving, Browsing and Exporting your Remix Sets
In order to save your new Remix set, click on the Deck letter in the upper-right corner of the Remix Deck and choose Save Remix Set.

Find all your saved Remix Sets by clicking on All Remix Sets under Track Collection in the Browser tree.

You can back up your Remix Set by right-clicking it in the Browser list and choosing Export Remix Set to save it to a folder on your computer.

Related Articles