This article describes the three different Grid Modes in MASCHINE 2. These are available by pressing the GRID Mode button on your Hardware controller.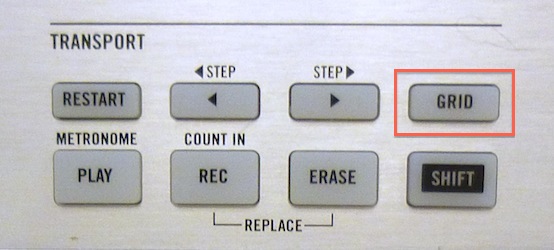 Perform Grid Mode
PERFORM Grid mode allows you to quantize the Scene transitions, i.e. you can choose the point at which the playback head will leave the current Scene. This setting is useful if you play live and wish to trigger your scenes at different intervals. For example, you might want to wait until the playhead reaches the end of the Scene to trigger the next loop, instead of firing it off immediately. In this case, set the PERFORM Grid Mode to SCENE, as in shown in the example below. 


When set to OFF, the next Scene will be triggered immediately after having selected the next loop.
When set to SCENE, the next Scene will be triggered at the end of the current Scene. 
Pattern Grid Mode
PATTERN Grid mode allows you to define the increments by which the length of a Pattern can be adjusted. If you want to use Patterns that are shorter than one bar in your Scene Arranger, choose a Pattern Grid Setting shorter than one bar. To shorten or lengthen your Patterns in half bar, for example, set it to 1/2: 

Step Grid Mode
STEP Grid mode allows you to change your Step Sequencer's step length. This will also change the Step Grid's resolution in the Pattern Editor. When set to 1/32, like in our example, one pad on your hardware will correspond to 1/32nd of a Bar.