To improve KONTAKT's performance on your system, please consider the following points (click to expand):
1. Update KONTAKT
Make sure KONTAKT's latest update is installed. Open Native Access and check the Updates section. Install the latest update if one appears.

Note: If running an earlier version of macOS, the latest KONTAKT update may not be available via Native Access. See this article for more compatibility info.
2. Latency Settings
Increase the latency in the Preferences of your host application if you are using KONTAKT as a plug-in. If you are running KONTAKT in standalone mode, open the Options and click the Audio tab. Increase the latency by moving the Latency slider to the right. If there is no slider available on the right side of the Latency entry the latency is handled by your hardware drivers. In this case click the ASIO Config button to open a separate control panel and adjust the latency setting in there.
Note: Further information regarding latency can be found in the article What is Latency.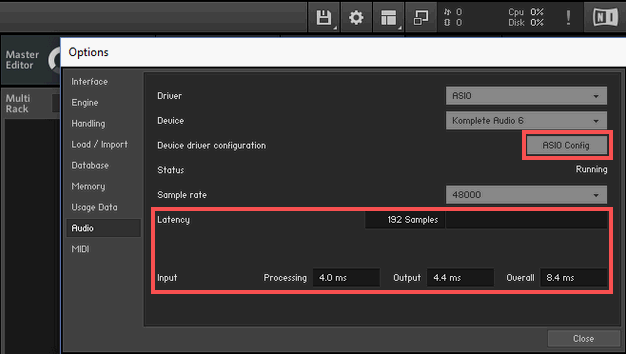 3. System Requirements
Make sure the CPU speed and RAM of your system match the requirements of both KONTAKT and your host sequencer (the system requirements can be found on the product package or on the product web page). Note that these system requirements apply to KONTAKT running as a standalone application while no other programs are running. If you are using KONTAKT within a host sequencer such as Pro Tools or Logic, the computer will need sufficient resources to run the host application as well. If possible, add more RAM to your system to increase memory to run KONTAKT as well as your sequencer more effectively. This can make a significant difference in performance.
4. Multiprocessor Support
Tweak your Multiprocessor support settings. In the Multiprocessor support section you can adjust the number of cores you wish to use with KONTAKT. You can select any number of cores to use, from one to the maximum number of cores available on your computer. Please note this setting is different in the standalone version and plug-in version of KONTAKT. For example, if you have set 2 cores in the standalone version, this will not change the settings in any of the plug-in versions of KONTAKT.


5. Memory Server
Make sure that you have not used all your RAM so that virtual memory is not in use for the samples. If you are using a 32-bit host sequencer and your computer is equipped with 4 GB or more RAM, turn the Use Memory Server option under Options>Memory on. If you are using a 64-bit host sequencer or running KONTAKT in 64-bit mode, turn the Use Memory Server option off, since this option has no effect in 64-bit applications, and is likely to lessen KONTAKT's performance.
Note: Further information regarding the Memory Server can be found in the KONTAKT reference manual. Please note that the Memory Server feature is only available on Mac systems and is not visible for Windows users.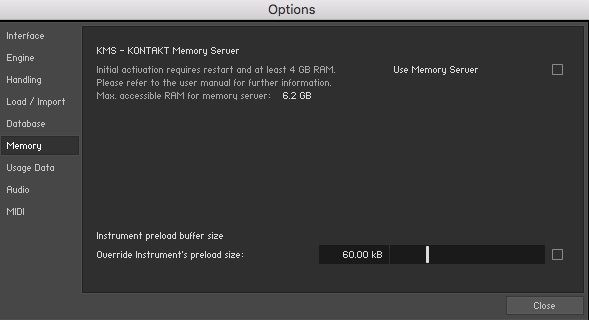 6. Using a Solid State Drive (SSD)



Best performance can be achieved by using a solid state drive (SSD). SSDs achieve read/write speeds much superior than that of traditional drives. Loading and streaming times will be greatly improved when your samples are stored on an SSD. It is not necessary to store your libraries on a separate disk to your operating system. However, due to the size that many KONTAKT libraries require, you may find it beneficial from an organizational point of view to store your libraries on a dedicated disk.
7. Saving CPU
Make sure that you are not using any unnecessary effects in your instruments. For example, if you load a number of instruments in KONTAKT and each one is using its own reverb, you will quickly expend a great deal of CPU power. You can save CPU power by using only one effect on one of KONTAKT's Aux channels and sending part of the output of each individual instrument to that channel.
8. Number of Voices
If you are using an instrument with a long sustain it may help to turn down the maximum number of voices for this instrument to reduce the CPU load. This can be set with the Max parameter in the instrument's header (see screenshot).



Handle this setting carefully to avoid "voice-stealing" or at least keep it inaudible. It works best with certain kind of instruments, e.g. timpani or other percussive sounds with long release tails and pizzicato strings.
9. Notes on Cloud Storage
Syncing content, projects or samples with a cloud drive can cause performance issues. While it is possible to back-up your content to a cloud drive, it is not recommended to configure real-time syncing. The syncing of your content, projects or samples should only occur when the NI application is not in use.