When trying to load a preset from the KOMPLETE KONTROL browser, you might receive the following error message: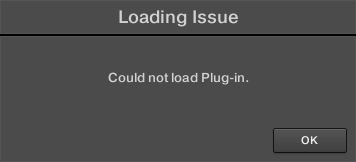 This means KOMPLETE KONTROL is unable to locate the NI plug-in associated with the preset. This happens if you have moved your NI plug-ins after the initial installation, deleted them or renamed your hard drive. In these cases, KOMPLETE KONTROL cannot find the plug-in under the path specified in the plug-in's registry.  This article will guide you through the necessary steps to solve this issue:
Repairing your Native Instruments VST plug-ins. 
Rescanning your KOMPLETE KONTROL plug-in database.
Repairing Your Native Instruments VST Plug-ins
If you know the current location of your VST plug-ins, you can relocate them with Native Access. Otherwise you can reinstall the product. Both options are described in this article.
Rescanning your KOMPLETE KONTROL Plug-in Database 
Once your system has relocated the missing plug-ins, you must let KOMPLETE KONTROL rescan its plug-in database. To do so, follow these steps.
Make sure KOMPLETE KONTROL is not running.
Navigate to the following folder:
C > Users > *User name* > App Data > Local > Native Instruments > Komplete Kontrol.
Important note: 'App Data' is a hidden folder. Read this article to learn how to enable the view of hidden folders on your Windows system.
Delete the file named Plugin64.data.

Start KOMPLETE KONTROL. The splash screen will indicate KOMPLETE KONTROL is scanning your Native Instruments plug-ins.


Note: If this did not help, please delete all files in the folder above and start KOMPLETE KONTROL again. Please note that the scan will take considerably longer now.
Your Native Instruments plug-ins will now load as expected within KOMPLETE KONTROL.