When trying to load a preset from the KOMPLETE KONTROL browser, you might receive the following error message: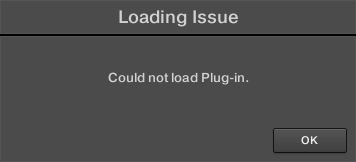 This means KOMPLETE KONTROL is unable to locate the NI plug-in associated with the preset. This happens if you have moved your NI plug-ins after the initial installation. In this case, KOMPLETE KONTROL cannot find the plug-in under the path specified in the plug-in's registry.  This article will guide you through the necessary steps to solve this issue:
Relocating your Native Instruments plug-ins using the VST location tool. 
Rescanning your KOMPLETE KONTROL plug-in database.
Relocating Your Native Instruments Plug-ins
The most convenient way to relocate your plug-ins is to use the NI VST location tool. This will update the installation paths written in the NI plug-ins' registries to their current location. You will find a download link to the VST location tool and detailed explanation on how to use it in this article from our Knowledge Base.
Rescanning your KOMPLETE KONTROL Plug-in Database 
Once your system has relocated the missing plug-ins, you must let KOMPLETE KONTROL rescan its plug-in database. To do so, follow these steps.
Make sure KOMPLETE KONTROL is not running.
Navigate to the following folder:
C > Users > *User name* > App Data > Local > Native Instruments > Komplete Kontrol.
Important note: 'App Data' is a hidden folder. Read this article to learn how to enable the view of hidden folders on your Windows system.
Delete the file named Plugin64.data.

Start KOMPLETE KONTROL. The splash screen will indicate KOMPLETE KONTROL is scanning your Native Instruments plug-ins.
Your Native Instruments plug-ins will now load as expected within KOMPLETE KONTROL.