Note: This article only applies to the Full version of REAKTOR 5 and not to the free REAKTOR 5 PLAYER version.
A REAKTOR Ensemble holds all the relevant information to a session of REAKTOR, including all Instruments, their Snapshots, and global settings. Snapshots (also called presets, programs, or patches) represent the state of all controls on the corresponding Instrument's Panel and are stored in Snapshot Banks which in turn can be saved on your hard disk.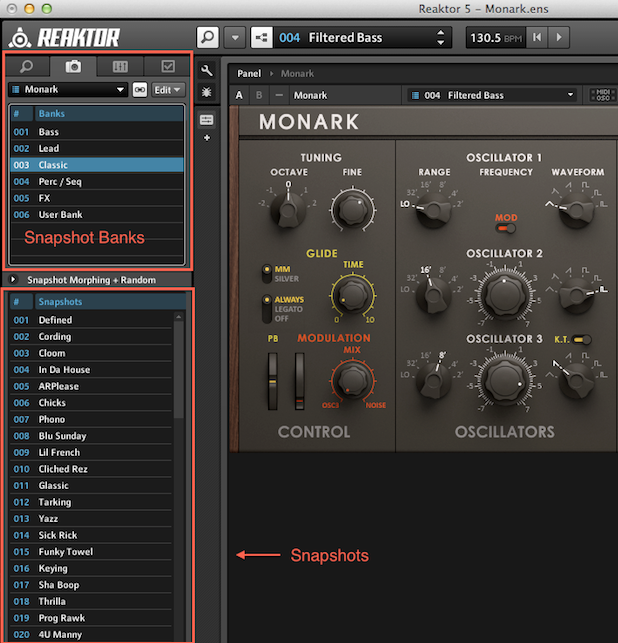 When you create a Snapshot, the current settings of all the Instrument's Panel controls and MIDI controllers are stored in the Snapshot. Among the Panel controls, settings like the knob and fader positions, list box and switch settings, and button states are saved. When you recall a Snapshot, all the Instrument's controls are restored to the settings they were in when the Snapshot was originally created. Each REAKTOR Instrument can store 16 Snapshot Banks containing 128 Snapshots each, for a total of 2048 Snapshots.
Creating a Snapshot Bank
To save a current instrument setting as a new Snapshot switch to Edit mode in REAKTOR 5 by clicking the tree icon.

In the second tab (displaying a picture of a camera) click the Edit drop-down menu and choose New Bank.

A new entry will appear in the Bank menu. Rename your new Bank to a name of your choice and press Enter on your keyboard.

Creating Snapshots
To save a Snapshot after editing a sound, click Append.

A Snapshot entry will be created in the Snapshots list. To change the name of your Snapshot, click the respective entry with your mouse and type in a new name. Then press Enter.

Your snapshot is now available for selection in your User Bank.
Exporting and Loading a Snapshot Bank
To save a selected Snapshot Bank, click the Edit drop-down menu and choose Save Bank.

This will open a dialog box to choose where you want to save the Snapshot Bank file. Select a name and location to store your new User Bank, then click Save. The Snapshot Bank file will be saved as a .ssf file.

To load a new Snapshot Bank into REAKTOR, choose Load Bank from the Edit drop-down menu. This will open a dialog box to browse for the .ssf Snapshot Bank file you wish to load.

Saving a Snapshot Bank with your Ensemble
To save your Snapshot Bank as part of the Ensemble follow the steps below:
Click the Menu button and choose File > Save Ensemble.

A dialog window will open where you can name and select a location for the Ensemble. Click Save to confirm.


Important Note: If you choose the existing Ensemble name and the same location, the old version of the Ensemble will be overwritten!

If you wish to save a new version of the Ensemble as a different file, choose Save Ensemble As...This way you will not overwrite the original Ensemble.