When installing a Native Instruments major update (e.g. when installing KONTAKT 5 on a computer where KONTAKT 4 is installed) the new version of the program will not overwrite the previous one. Both will be installed side-by-side in your Native Instruments applications folder as well as in your plug-in folder.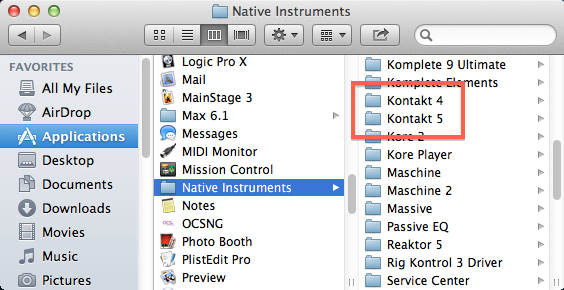 There is no technical reason to keep the previous version installed on your computer. It can be useful to erase it in order to save hard drive space, especially for products with large sample libraries, like KONTAKT and BATTERY.
However, if you are working on projects in your host sequencer which rely on the previous version, it is important to keep the previous version of your NI product installed. The new version of the plug-in will not automatically replace the previous one within these projects. If the previous version has already been uninstalled, your host sequencer will display a missing plug-in error message when opening a project where the older version of the plug-in was loaded.
For example, if you have used KONTAKT 4 in your host sequencer project, and erased KONTAKT 4 from your computer after installing KONTAKT 5, the plug-in in your project will be missing. Once you have no more host sequencer projects relying on the previous update, you can safely uninstall it from your computer. Find more information about uninstalling our software products here:
Related Articles