This article addresses issues with C++ Runtime Libraries. If your system is affected by such an issue, you may encounter the following error message: Runtime Error! Program: (...). This application has requested the Runtime to terminate it in an unusal way. Please contact the application's support team for more information.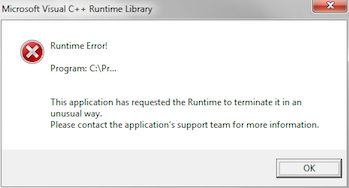 Many Windows programs depend on the C++ Runtime Libraries. Since you get a C++ Runtime error, most likely you have installed an outdated version of this Runtime or it is missing on your system. To fix this, please update your C++ Runtime library. Make sure to pick the correct Runtime for your Windows version (32- or 64-bit).
The C++ Runtime Library Package can be downloaded here:
Visual C++ Redistributable Packages for Visual Studio 2013 Check either the file vcredist_x64.exe (6.9 MB) if you are on a Windows 64 bit system or the file vcredist_x86.exe (6.2 MB) if you are on a Windows 32 bit system.


Click Next and then download and install the library.