Symptom
You receive the following error message on Windows:
Runtime Error! Program: (...). This application has requested the Runtime to terminate it in an unusal way. Please contact the application's support team for more information.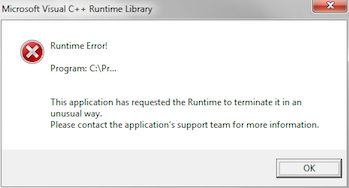 Cause
The Windows C++ Runtime Library Package must be updated.
Solution
The C++ Runtime Library Package can be downloaded here:
Visual C++ Redistributable Packages for Visual Studio 2013
Please consult the Microsoft Support pages or contact Microsoft support for more information if you require further assistance installing the package.