The iTunes node in the TRAKTOR browser allows you to directly access all of your tracks and playlists contained in the iTunes Music Library. This is useful if you are using iTunes to organize your music. It is only possible to edit tracks that have been previously imported to TRAKTOR's Track Collection and thus appear highlighted as opposed to greyed out.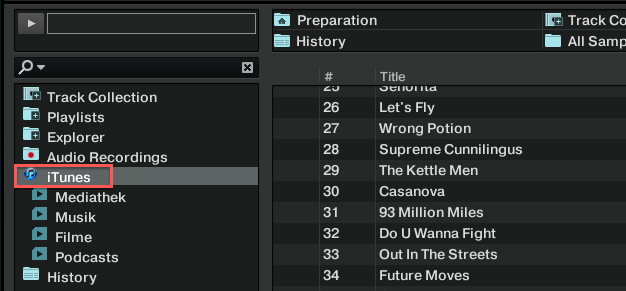 If you additionally want to edit track information in TRAKTOR and take full advantage of all Track Collection features, you need to import your tracks and playlists. We recommend to observe the following steps in order to keep a consistent music library both in TRAKTOR and iTunes.
Setting up the iTunes Preferences
Open the

iTunes Preferences... from the iTunes menu bar.



Go to the

Advanced Preferences

tab, and make sure that:

Keep iTunes Media folder organized is unchecked.

 

Share iTunes Library XML with other applications is checked.



Add your iTunes Music Library path to the TRAKTOR

Music Folders

under Preferences > File Management. The default path of your iTunes Music Library is:
OS X: Macintosh HD > Users > *Your User Name* > Music > iTunes

Windows: C: > Users > *Your User Name* > Music > iTunes
Check the option
Import Music-Folders at Startup
(Preferences > File Management). This will automatically keep TRAKTOR up to date with all new tracks in your Music Folders, including the iTunes Music Library we added before.
You can now use TRAKTOR's editing and analysis features for all your tracks in the TRAKTOR Track Collection. In the iTunes node, right/ctrl-click a track and select Show in Collection to locate it in the Track Collection. Optionally, you may also add your iTunes playlists to TRAKTOR by dragging them from the iTunes node onto the Track Collection in the TRAKTOR browser or right-clicking on them and selecting Import to Playlists from the context menu.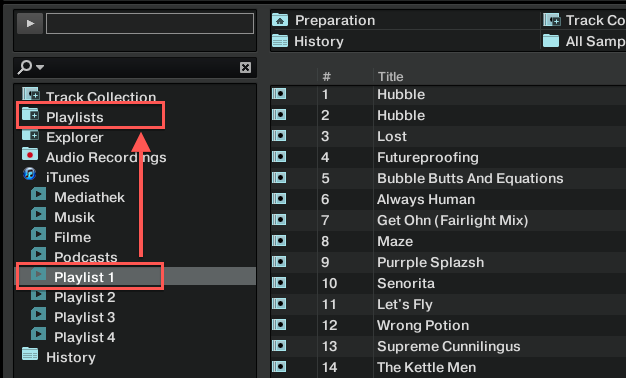 Note: The imported playlists are independent from the ones in iTunes. Changes made in iTunes will be reflected in the iTunes Node, however not in the TRAKTOR Track Collection's Playlists section.
Managing Tracks from within TRAKTOR's iTunes Node
When accessing the contents of the iTunes node in TRAKTOR's Browser, some of the titles may appear greyed out.

This indicates that these tracks have not been imported into TRAKTOR's Track Collection. Tracks that have already been imported to the Track Collection are not greyed out and bear a record sleeve icon in the Icons column of the playlist. When working in the iTunes node of the TRAKTOR Browser, please consider the following:
The tags (Title, Artist, etc.) of greyed out tracks cannot be edited but you can load and play these tracks.

When a track is loaded into a Deck, it is added to the Track Collection.

We recommend editing your tags only in TRAKTOR's Track Collection. If you edit your tags directly in the iTunes application, this may lead to inconsistencies between your iTunes node and the Track Collection.
Related Articles