TRAKTOR 2.11 introduces Ableton Link integration. With Ableton Link you can sync your TRAKTOR setup with other DJs or performers via a local network (LAN or Wi-Fi) connection.
Connecting two or more systems via Ableton Link gives TRAKTOR users the ability to synchronize all systems to a common timeline and change the tempo globally from each of the connected systems.
This article explains the use of TRAKTOR with Ableton Link. The article is divided in the following chapters:
Connecting to a Network
Applications that support Ableton Link can automatically join an Ableton Link session. For this, simply make sure that the computer running TRAKTOR is currently connected to a local network via Wi-Fi or LAN. We recommend to connect to the local network (router) via an Ethernet (LAN) cable using a dedicated network switch whenever possible. For Mac users we recommend the direct connection between two computers (peers) via a Thunderbolt cable.
Joining / Leaving Ableton Link with TRAKTOR
Open TRAKTOR 2.11 (or higher).
Press the LINK button located in TRAKTOR's header.

TRAKTOR will either join an existing Ableton Link session or begin a new session. While connected, the LINK button displays how many other systems are currently connected to the same network via Ableton Link. The example below indicates that there are currently 4 other peers (systems) connected.


To leave the Ableton Link network, click LINK again to switch it off.
Syncing TRAKTOR to the Link Timeline
Most applications supporting Ableton Link have a unique timeline that is automatically synced as long as Link is enabled. In TRAKTOR, enabling Link synchronizes its Master Clock to the common Link timeline and makes it the sync reference for the decks.
From within TRAKTOR the session's tempo can be changed via the Master Clock GUI controls or via the tempo encoder on some of the controllers.
How the decks synchronise to the common timeline is defined by the Sync Mode, selectable in Preferences > Transport > Sync Mode
BeatSync Mode
Whenever possible, use BeatSync Mode instead of TempoSync Mode as BeatSync ensures that the TRAKTOR Decks are always matched to the common Link timeline. You can set this parameter in TRAKTOR Preferences > Transport > Sync Mode > BeatSync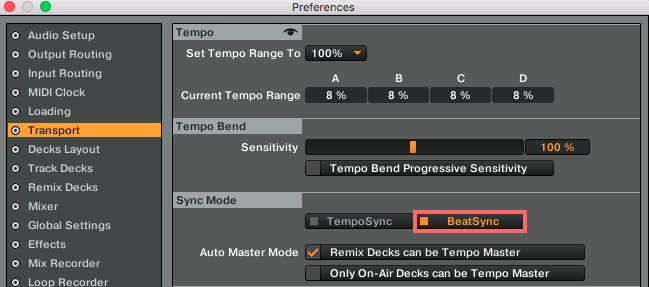 TempoSync Mode
If you rely on manual tempo adjustment as opposed to automatic tempo syncing via the SYNC button, set the SyncMode to TempoSync. In TempoSync, drifts in tempo/phase may occur. To quickly correct this, press the SYNC button twice on the Deck that's currently playing.
Additionally note the following advice in order to keep tempo/phase drifts to a bare minimum:
Increase the audio buffer (latency) for your audio driver in TRAKTOR Preferences > Audio Setup to avoid buffer underruns. If you normally set your buffer to e.g. 256 samples, set it to e.g. 512. On a Mac, you can switch the Latency slider directly in the Audio Setup menu. On Windows, click on Settings in the Audio Setup menu to open up the Control Panel and then select the Process Buffer drop-down menu from the Audio Settings tab.

Avoid large and sudden tempo changes.
Use a cable instead of a wireless connection.
Matching the Downbeat
As TRAKTOR will not always sync automatically to the downbeat or first bar (beat 1 of 4), you may have to do this manually. Keep an eye on the bar phase meter blue bar below the LINK button: Its progress shows the current bar phase of the Link timeline. Release the downbeat of your track when the bar has reached its zero point (bar is 'empty').


Resetting the Phase
Occasionally due to tempo offsets or when you resume playback after having stopped, your sync to Ableton Link may be out of phase in relation to all other peers in the network. For quickly resetting the phase, you may engage TRAKTOR's Reset Downbeat function which is available as mapping command from TRAKTOR's Controller Manager under Add In..>Master Clock >Ableton Link >Reset Downbeat. This command is also mapped to the key combination 'Ctrl + Alt + Space' on your computer keyboard.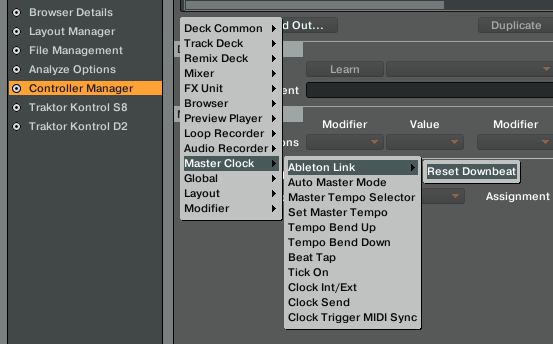 Note: Resetting the downbeat may cause a skip backwards in the Ableton Link timeline by a beat or two.
Known Issues
Manually Switching a TRAKTOR Deck to Master Breaks Ableton LINK Synchronization
We currently warn all users of TRAKTOR controllers not to set a TRAKTOR Deck manually to Tempo Master during an Ableton Link session. The manual switch to Tempo Master is achieved on most TRAKTOR controllers via the button combination SHIFT + SYNC.
Note: Learn more about TRAKTOR's Master Tempo and Sync in this video.
Setting a Deck manually to Master will lead to the loss of sync between the users of the ongoing Ableton Link session. Additionally, none of the Master buttons will light up in the TRAKTOR Decks.
During an Ableton Link session we recommend to adjust the Master tempo only. In order to prevent accidental manual switching, you can override your button combination (SHIFT + SYNC in most cases) with another, trivial function in the Controller Manager. Learn more about the Override Factory Map function in this article.
Note to users of third-party controllers: The MIDI command responsible for the manual assignment of Master Tempo to a Deck is found in TRAKTOR's Controller Manager under Add in... Deck Common > Set as Tempo Master. Your controller may also implement this command as a button combination, in which case we recommend to identify the command in Controller Manager and delete it or replace it by another command. Learn more about the use of TRAKTOR's Controller Manager in this article.