There are two options to register your Native Instruments hardware product:
Register your hardware serial number for all NI hardware devices directly on our website, under the following link:
https://www.native-instruments.com/support/hardware-registration/
Register your NI hardware serial number using Native Access. This option works for all hardware devices that are currently available at our online shop. To register your NI hardware product, click on Add a serial in the upper left corner of Native Access, then enter your serial number in the dedicated field:

IMPORTANT NOTE: Older hardware devices with a specific type of serial number cannot be registered. These devices are automatically registered after the corresponding software has been registered. If the serial number on your device starts with 'NI' followed by a combination of numbers and letters, simply register the corresponding software. Example of a hardware device serial that cannot be registered: NITA809C0417
To obtain specific Getting Started instructions for your particular device, please use the link printed on the flyer contained in your NI product's box. The below screenshot shows the flyer contained in a TRAKTOR KONTROL S5 box. For this particular device, you will find Getting Started instructions, including how to register your hardware, under www.native-instruments.com/go-S5.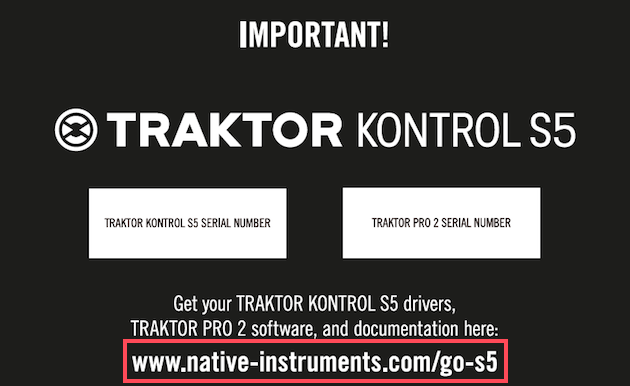 Related Articles