With the releases of KOMPLETE KONTROL 2.0.0 and MASCHINE 2.7.4, Native Instruments introduces a new tagging system for the FX presets in order to adapt them to the new Native Kontrol Standard. 
After installing the update, the Factory Library presets will be automatically updated to the new NKS tagging scheme. This happens when you launch the standalone application of MASCHINE or KOMPLETE KONTROL after installing the update.
For User presets the change is optional: you may choose if you want to keep your old tags or if you want to update them to the new NKS scheme.
If you have user presets saved that have used the old tagging scheme, a yellow UPDATE button will become visible on top of your browser window when you are in the User FX presets section of the Browser.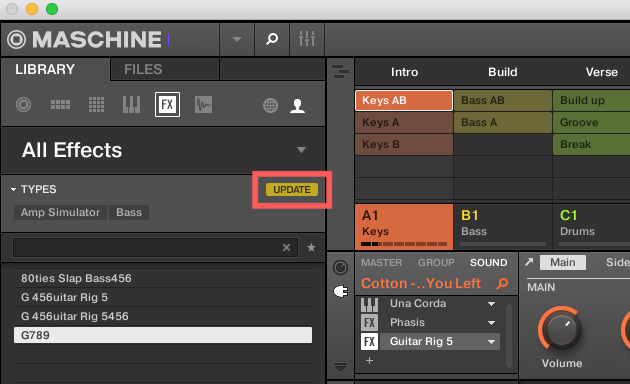 If you want to keep the old tagging scheme for your User presets, you can ignore the UPDATE button.
If you wish to update your User presets to the new NKS tagging scheme, press the Update button. The following dialogue will appear:


On clicking the Update button here, your existing User presets will be updated to the new tagging scheme. Your custom tags will not be affected by this update. Please be aware that the changes are permanent and cannot be undone.