When launching a Native Instruments application on macOS 10.14 (or higher), the following message is displayed:
*appname* would like to access the microphone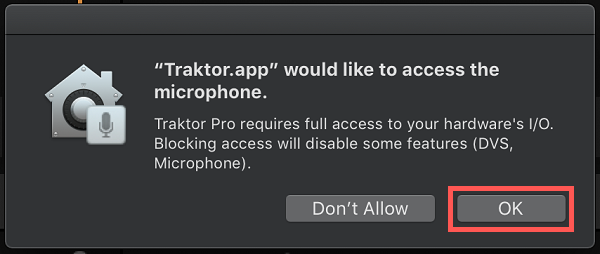 You can click OK in order to enable microphone access. If you click Don't Allow and prevent access, you may experience issues such as:

No incoming signal going to the Input Decks




No DVS support

Audio performance issues



In case you inadvertently chose Don't Allow or ignored the prompt, you can also adjust your Mac settings to enable microphone permission:
Go to

System Preferences > Security & Privacy > Privacy > Microphone

Click on the lock icon next to Click the lock to make changes and enter your computer log-in details.

Enable the microphone setting for your app(s) by ticking the box next to *app.name*.app. In the below example, we are enabling the microphone access for Traktor.app.