Symptom
When launching TRAKTOR, you receive the following warning message:
"Optimize Mac Storage" is turned on in iCloud Drive. This can result in loss of Traktor data!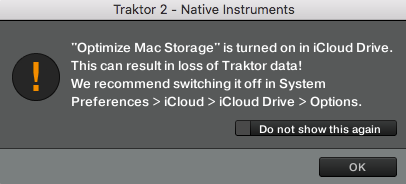 Cause
Your Mac system has enabled the sync between the music data used in TRAKTOR and your iCloud Drive, which can result in loss of data in your Track Collection.
Solution
Close TRAKTOR.
Go to your Mac System Preferences > iCloud.
Click Options next to the iCloud Drive entry.

Uncheck the box Optimize Mac Storage and click Done.

Note: if any relevant content (e.g. documents, music files) had already been moved from your computer to your iCloud drive and TRAKTOR is missing this data, you need to copy these files back to your computer. In order for TRAKTOR to find the data, the files must be placed back in their original location. The default location of TRAKTOR documents is:
OS X: Macintosh HD > Users > *Username* > Documents > Native Instruments > Traktor *Version Number*
Win: C: > Users > *Username* > My Documents > Native Instruments > Traktor *Version Number*