Symptom
When you attempt to add a KONTAKT Library in Native Access, you receive the error:
Library path is not valid. Please browse again.

The above example shows the error occurring when attempting to add the Complete Orchestral Collection from Best Service.
Cause
The primary cause of this error is having the incorrect folder chosen in Native Access.
Other causes are also covered in the solutions below.
Solutions
Selecting the correct Library folder
In the example in the screenshot above, the location E:/NI_Content is chosen.
However, this location is not correct. The correct location is E:/NI_Content/Complete Orchestral Collection as seen in the screenshot below: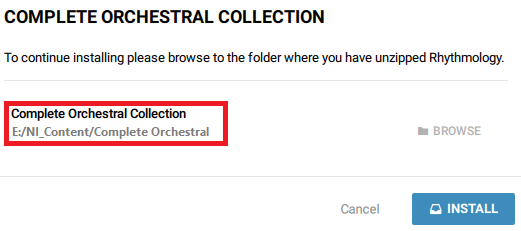 Please click the BROWSE button and navigate to the specific folder of your KONTAKT Library.
If this step has not resolved your issue, please try the additional solutions below:
1. Library Download
If you want to add a 3rd party KONTAKT Library, ensure that the library is downloaded and unzipped as per the instructions from the manufacturer of that library. This may differ depending on the manufacturer as some use their own download manager to download and unzip the library files, while others will provide instructions on how to do this manually.
2. Security Software Blocking Installation
We have also found that in some rare cases, certain security software (such as BitDefender antivirus free edition, Malwarebytes Anti-Malware) could cause an issue with adding the library. Try temporarily disabling any additional security software you may be running.
3. Format of Harddisk
Hard drives formatted as "case sensitive" are not compatible with our products. The supported formats are NTFS for Windows and Extended (Journaled) for Mac OS 10.12 and earlier or Apple File System (APFS) for Mac OS 10.13 and later.
If the above has not resolved your issue, please contact our Technical Support by creating a new post in our Support Community.