Symptom
When trying to install a Native Instruments product on a Windows computer, you receive an error message mentioning a missing DLL file:
Error. There is a problem with this Windows Installer package. A DLL required for this install to complete could not be run. Contact your support personnel or package vendor.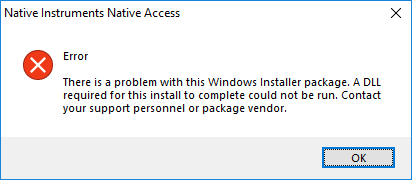 Cause
This issue appears if the programs System Mechanics and/or F-Prot are installed on your Windows system. They will block the installation of Native Instruments products.
Solution
Uninstall System Mechanics and/or F-Prot from your Windows system and run the Native Instruments installer again.