It is possible to use the MIDI Assignment Editor to create and customize MIDI templates for your A-Series / M32 keyboard.
The MIDI Assignment Editor is only configurable from the KOMPLETE KONTROL standalone application. It is not accessible from the plug-in version of KOMPLETE KONTROL. However, templates you create in the standalone application can be loaded in the plug-in version when you switch your keyboard to MIDI mode (SHIFT + MIDI).
---
Install the latest Firmware
In order to access the MIDI Assignment Editor, you will need to have the latest firmware installed for your A-Series / M32 keyboard. This article explains how to do this.
Setting up the MIDI Ports (Windows only)
If using a Windows computer, you will need to follow the steps below. These steps are not necessary if using macOS.
1. Start KOMPLETE KONTROL in standalone mode.
2. Open Edit > Preferences > MIDI > Input.
3. Ensure that only the KOMPLETE KONTROL Axx / M32 MIDI port is enabled: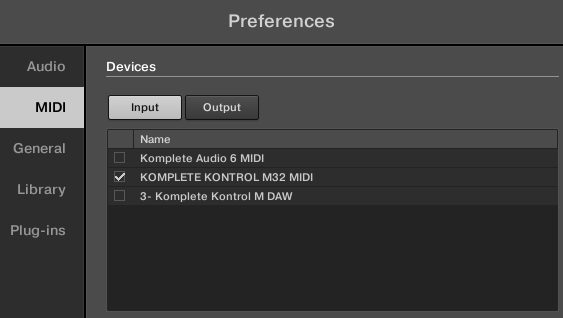 4. Now, navigate to MIDI > Output. Ensure that all ports are disabled: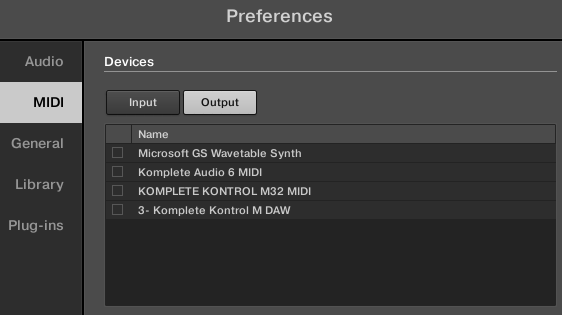 You can now access the MIDI Assignment Editor from your KOMPLETE KONTROL standalone application by clicking the MIDI icon in the top right corner:

You can find detailed instructions on MIDI communication and using the MIDI Assignment Editor in the product's manuals. You can download the manuals on the following pages:
Using MIDI Templates in a DAW
If you want to use your MIDI templates in a DAW, you will also need to disable the MIDI Output ports in the DAW's MIDI settings.
1. Open your DAW.
2. Navigate to the MIDI preferences.
3. Ensure that the MIDI Output ports are disabled
4. Ensure that the MIDI Inputs for your keyboard are enabled.
In our example below, we are showing the desired settings in Ableton Live: