With the release of KOMPLETE KONTROL 2.3.0, you can now use the MIDI Assignment Editor to create and customize MIDI templates for your A-Series / M32 keyboard.
The MIDI Assignment Editor is only configurable from the KOMPLETE KONTROL standalone application. It is not accessible from the plug-in version of KOMPLETE KONTROL. However, templates you create in the standalone application can be loaded in the plug-in version when you switch your keyboard to MIDI mode (SHIFT + MIDI).
---
In order to access the MIDI Assignment Editor, you will need to have the latest firmware installed for your A-Series / M32 keyboard.
Installing the Firmware Update
1. Open Native Access and install the latest update for KOMPLETE KONTROL.
2. Ensure your keyboard is connected to your computer and start the KOMPLETE KONTROL standalone application. A window will appear informing you that a new Firmware update is available: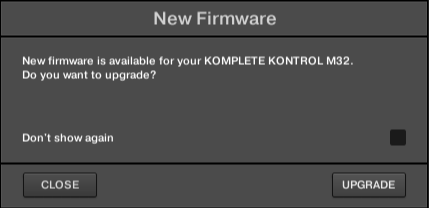 Follow the steps below to update the firmware.
1. Click the UPGRADE button.
2. Download the file KKSM2_FWUpdater_XXX_.zip to your computer.
4. Important: Close your web browser.
3. Unzip the downloaded file and run the extracted 'Updater' application.
4. The updater shows the Installed Firmware version and the Newest Firmware version. Click the UPDATE button.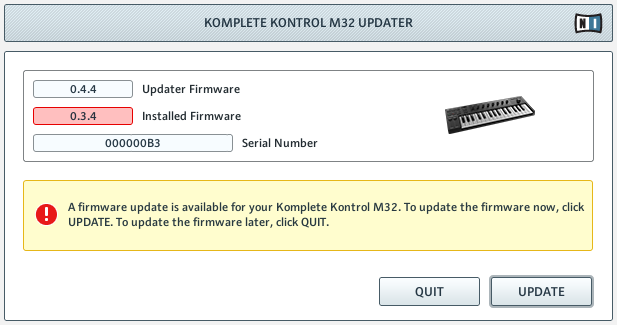 5. The firmware of your keyboard is now being updated.
IMPORTANT: Please read the following:
This process can take up to 2 minutes.
Do not turn off the controller.
Do not disconnect the USB cable.
If you're using a power supply, do not unplug it.
Don't panic if the screens turn black - this is part of the process.
6. After the firmware has been updated, click FINISH to close the application.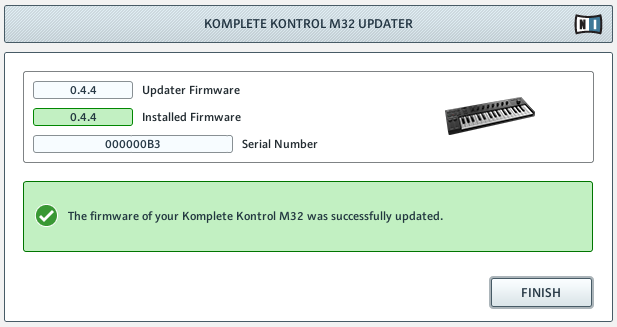 Note: You can also find the latest firmware updater on our Downloads page.
Setting up the MIDI Ports
(Windows only)
If using a Windows computer, you will need to follow the steps below. These steps are not necessary if using MacOS.
1. Start KOMPLETE KONTROL in standalone mode. The standalone application can be found by default at:

C: > Program Files > Native Instruments > Komplete Kontrol
2. Open Edit > Preferences > MIDI > Input.
3. Ensure that only the KOMPLETE KONTROL Axx / M32 MIDI port is enabled: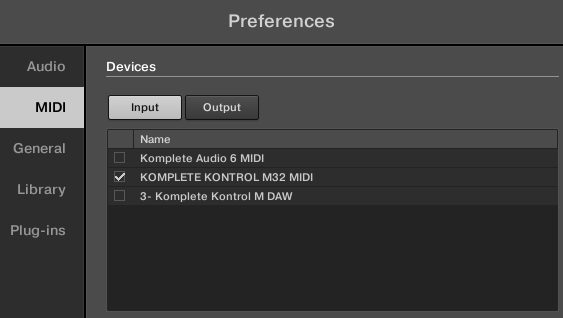 4. Now, navigate to MIDI > Output. Ensure that all ports are disabled: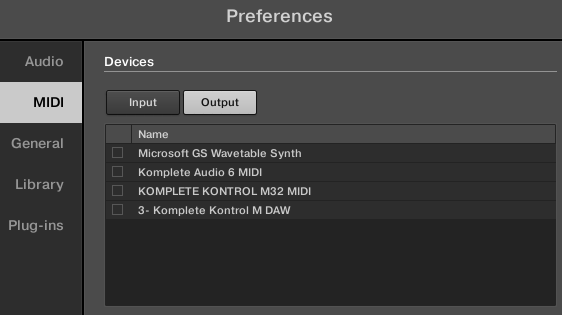 If you want to use your MIDI templates in a DAW, you will also need to disable the MIDI Output ports in the DAW's MIDI settings.
1. Open your DAW.
2. Navigate to the MIDI preferences.
3. Ensure that the MIDI Output ports are disabled
4. Ensure that the MIDI Inputs for your keyboard are enabled.
In our example below, we are showing the desired settings in Ableton Live: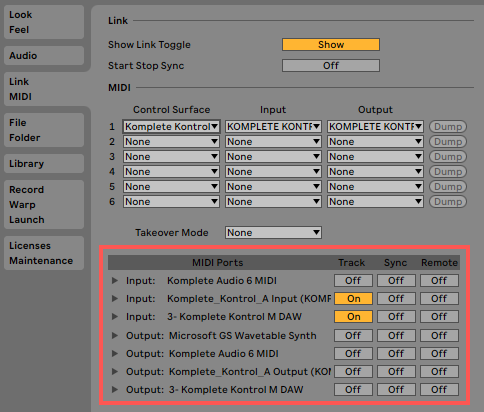 You can now access the MIDI Assignment Editor from your KOMPLETE KONTROL standalone application by clicking the MIDI icon in the top right corner:

You can find detailed instructions on MIDI communication and using the MIDI Assignment Editor in the product's manuals. You can download the manuals on the following pages: