Symptom
When launching Logic Pro X, the following error message appears:
Incompatible Audio Units found.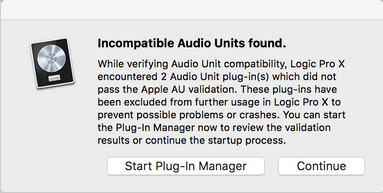 Cause
The NI plug-in fails to be validated by Logic's Plug-in Manager due to a corrupt activation file.
Solution
Clicking on the Start Plug-In Manager button of the error message will open Logic's Plug-In Manager and show which plug-in(s) are failing validation. In this example, Maschine 2 shows crashed validation.

Follow the steps below to resolve the issue:
The following files must be moved to the trash:

Mac HD > Users > Username > Library > Application Support > Native Instruments > *Product Name* folder (in our example, this would be the Maschine 2 folder)

MacHD > User > *Username* > Library > Preferences > com.native-instruments.*product name*.plist

MacHD > User > *Username* > Library > Caches > AudioUnitCache > com.apple.audiounits.cache


Note: The User Library is a hidden folder on macOS. To access it, click 'Go' in the Finder menu bar and hold down the 'Alt' key. The Library entry will now appear in the menu.



Right-click on the Trash icon in the Dock and choose Empty Trash and then restart your computer.
Open Logic. It will rescan and activate all of your AU plug-ins.