Symptom
When opening an NI plug-in in a DAW on Windows 10, the plug-in window appears broken / with glitches.
Cause
On Windows 10 some DAWs (e.g. Ableton Live 10 / 11 and Cubase 11) support multiple display scaling factors for non-HDPI plug-ins. HDPI stands for "High Dots per Inch" image resolutions. Currently, not all NI plug-ins support HDPI.
Solution
Our developers are currently working on ensuring compatibility with our plug-ins which are not yet HDPI ready. Please check this page regularly to obtain information on any news regarding this topic! We appreciate your patience!
In the meantime, we recommend the following workarounds:
Windows System Settings
In general, you can try to use a different scaling factor in your Windows Settings > System > Display.
Ableton Live 10 / 11
If you encounter any issues in Ableton Live 10 / 11, we recommend to switch off the option Auto-Scale Plugin Window for the affected plug-ins.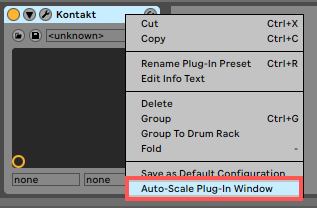 Steinberg Cubase 11
If you are using Cubase 11, click on the affected plug-in's header and switch off the option Allow Window to be Resized.