This article explains how to record MIDI notes from your MASCHINE controller directly in FL Studio. This can be useful when you want to bypass the MASCHINE sequencer and use FL Studio's sequencer to edit the recorded notes while still using the MASCHINE sounds.
FL Studio MIDI settings
Connect your MASCHINE controller and open FL Studio's MIDI settings under OPTIONS > MIDI settings.


In the Input section, click on your MASCHINE controller and choose (generic controller) as the Controller type.



Note: Some previous generations of MASCHINE controllers can be chosen as the Controller type. If you have one of those controllers, choose the corresponding entry.

Then, click the Enable button.

Configuring MASCHINE
Load MASCHINE 2 as a plug-in in FL Studio.

Open the MASCHINE 2 plug-in and load or create a kit.
Click the Channel icon.


Click the

Group

tab followed by

Input

to open the MIDI

Input

properties page for your

Group

.




Choose

Manual

for the Key Mode and

Host

for the Source.



Switch your MASCHINE controller to MIDI mode. You can find the button combination for your controller in this list:


| | |
| --- | --- |
| MASCHINE Model | MIDI Mode Button Combination |
| MASCHINE MK1 / MK2 | SHIFT + CONTROL |
| MASCHINE MK3 | SHIFT + CHANNEL (MIDI) |
| MASCHINE MIKRO MK1 / MK2 | SHIFT + F1 |
| MASCHINE MIKRO MK3 | SHIFT + Project button |
| MASCHINE STUDIO | SHIFT + CHANNEL |
| MASCHINE JAM | SHIFT + headphones button (MIDI) |
Selecting the correct octave
As the root note of the Group inside the MASCHINE Software is set to C1, press GROUP Button C.
Now your MASCHINE pads will trigger the Notes from C1 to D#2. This means that when you press your first MASCHINE pad, Sound 1 will be triggered, the second MASCHINE pad triggers Sound 2, etc.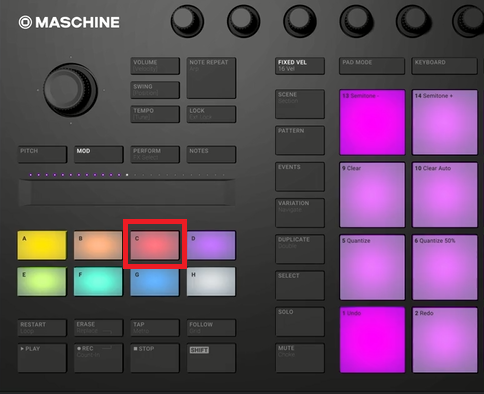 To select Group C of the MASCHINE MIKRO MK1 / MK2 / MK3, hold down the GROUP button and press pad 15 / C.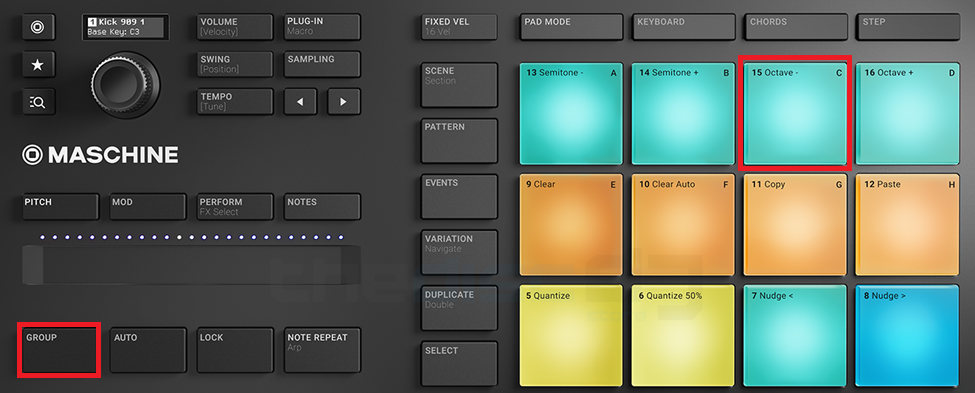 You can now play your Kit on MASCHINE and record the notes directly into your DAW. Alternatively, you can program the MIDI notes directly in FL Studio with the mouse.