Symptom
When loading a project in your DAW that contains KONTAKT, you receive the following error message:
The state of some Kontakt instances cannot be recalled correctly.
Please open any Kontakt instance to resolve the problem.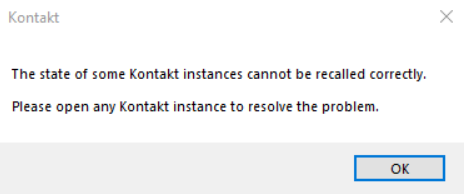 Cause
A change to the installation directory path info for your KONTAKT Libraries can cause this error message to appear. If you have saved a DAW project, then moved your NI Sample Library folders (or changed the name of the parent folder or hard drive), this error message will appear the next time you open the project.
Similarly, if sample content was deleted or if the library content requires a newer version of KONTAKT, this error message will appear the next time you open the DAW project.
Solutions
Make sure KONTAKT is Updated and Compatible
Open Native Access and go to the Available Updates section. If an update appears in this section, please install it.


Note: In some cases, the latest version of KONTAKT may not be available on some older versions of macOS. See this article to find compatibility info for KONTAKT and your version of macOS.
Check All Instances of KONTAKT in the DAW Project
Once you've encountered the error message, click OK.



Note: If your DAW project contains multiple instances of KONTAKT, you may encounter this error message more than once. Simply click OK each time this message appears.

Go to the DAW track containing KONTAKT and open the plug-in window. The Content Missing dialog window from KONTAKT should appear:

- Click the box labelled: Check for duplicates (takes more time)
- Click Browse for Folder (under Resolve Manually).
- Navigate to the folder containing the samples identified as missing.
- Allow KONTAKT the time required to search and locate any missing files.
If your DAW project contains multiple instances of KONTAKT, open and check all other tracks that may contain a KONTAKT instrument. If other instances of KONTAKT are found, use the Content Missing dialog window to resolve any issues with missing samples (see previous step #2).


Note: Be sure to also check any DAW tracks containing the KOMPLETE KONTROL and MASCHINE plug-ins as these may also contain instances of KONTAKT. Please see this article for a list of NI Products associated with KONTAKT, if needed.

Once the sample content is relocated with all instances of KONTAKT, re-save your DAW project. The corrections made to the KONTAKT sample locations will be recalled the next time your DAW project is opened.


Note: Ensure not to move any sample folders involved with your DAW project. Changes made to any part of a sample library installation path, parent folder, or hard drive name will cause this issue to reoccur.