Síntoma
Recibe el siguiente mensaje de error en Windows:
Runtime Error! Program: (...). This application has requested the Runtime to terminate it in an unusal way. Please contact the application's support team for more information.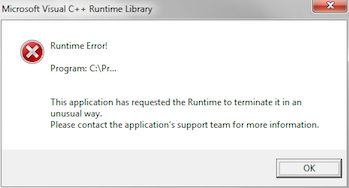 Causa
El paquete de biblioteca C ++ Runtime de Windows debe actualizarse.
Solución
El paquete de la biblioteca C ++ Runtime puede descargarse aquí:
Actualización para 2013 de Visual C++ y Visual C++ Redistributable Package
Consulte las páginas de soporte de Microsoft o póngase en contacto con el soporte de Microsoft para obtener más información si necesita más ayuda para instalar el paquete.