Síntoma
Recibe el siguiente mensaje de error en Windows:
Runtime Error! Program: (...). This application has requested the Runtime to terminate it in an unusal way. Please contact the application's support team for more information.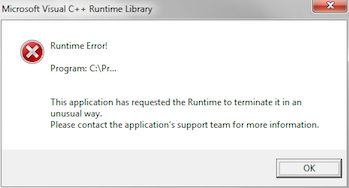 Causa
El paquete de biblioteca C ++ Runtime de Windows debe actualizarse.
Solución
Siga los pasos indicados en esta publicación en nuestra comunidad de usuarios.