Symptôme
Vous recevez le message d'erreur suivant sur Windows:
Runtime Error! Program: (...). This application has requested the Runtime to terminate it in an unusal way. Please contact the application's support team for more information.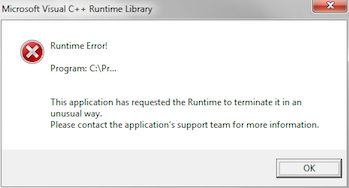 Cause
Le package redistribuable Microsoft C++ Runtime pour Visual Studio doit être mis à jour.
Solution
Suivez la démarche présentée dans ce post de la communauté pour résoudre votre problème.