TRAKTOR PRO 2 / 3 automatically detects all Native Instruments controllers based on our NHL protocol and adds them to your configuration. This includes the following products:
TRAKTOR KONTROL S8
TRAKTOR KONTROL S5
TRAKTOR KONTROL S4
TRAKTOR KONTROL S3
TRAKTOR KONTROL S2
TRAKTOR KONTROL D2
TRAKTOR KONTROL X1
TRAKTOR KONTROL F1
TRAKTOR KONTROL Z2
TRAKTOR KONTROL Z1
If you are adding one of these controllers to your existing TRAKTOR installation, just install the drivers and plug it into a free USB port on your computer. All necessary settings will be loaded as soon as TRAKTOR recognizes the device.
Note: Depending on the model and your TRAKTOR configuration, you may have to activate features like Remix Decks or Scratch Control in order to make full use of your controller.
When starting TRAKTOR for the first time, the Setup Wizard will come up and guide you through the configuration process. The WELCOME screen advises you to connect all your devices and USB controllers. If you own one of the controllers named above, this is the only configuration step needed to add them to your TRAKTOR configuration.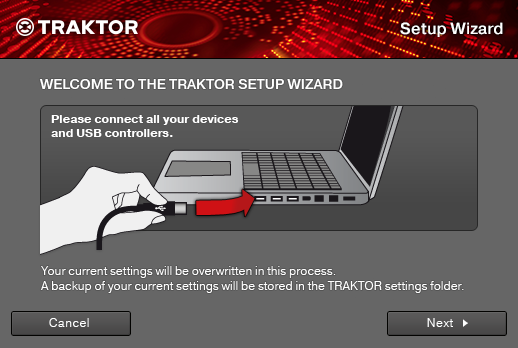 With our stand-alone controllers TRAKTOR KONTROL S8 / S5 / S2 / S4 / Z2, you will directly get to the DECK LAYOUT SELECTION screen to conclude the configuration.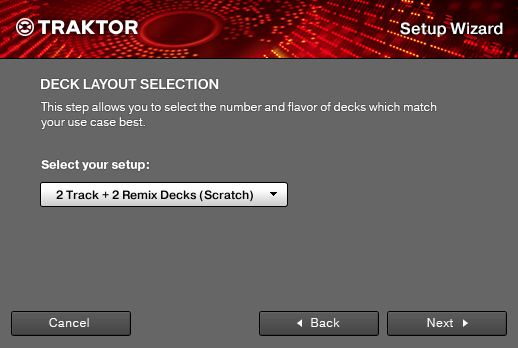 With the add-on controllers TRAKTOR KONTROL X1 / F1 however, the Setup Wizard will additionally enter the HARDWARE CONTROLLER SETUP and ask you whether or not your are using an external controller. This makes it possible to add another controller to your configuration which does not support automatic detection, including MASCHINE or other third-party TRAKTOR READY controllers. Choose Yes only if you are using another TRAKTOR READY controller, and choose No if you are solely using one or more of the NI controllers listed in this article.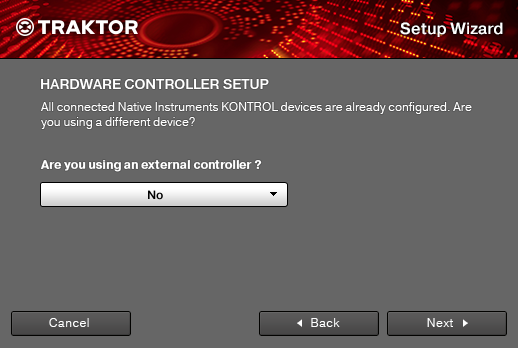 If you choose Yes, Setup Wizard will take you to the HARDWARE CONTROLLER SELECTION screen.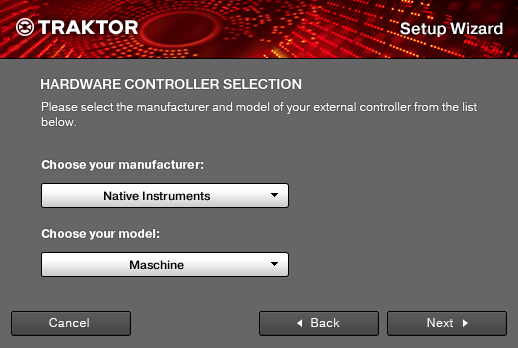 If you got here but do not have another TRAKTOR READY controller to configure, just hit the Back button and choose No in the HARDWARE CONTROLLER SETUP as described above to directly get to the DECK LAYOUT SELECTION without adding another TRAKTOR READY controller.

Related Articles